http://www.wittfan.de/english/about.php
EXCELLENCE THROUGH INNOVATION
Originally established as a specialist fan supplier to the German merchant shipbuilding industry, WITT&SOHN have grown over the past 60 years to become one of the world's leading names in industrial fan technology and associated noise and vibration control. WITT&SOHN's well proven expertise in axial and centrifugal fan manufacture has today made them a market leader in many specialised, high performance sectors.
As well as merchant and naval shipbuilding these now include the tunnel, nuclear power, chemical and pollution control industries. From the 15,000 m2 factory at Pinneberg, outside Hamburg, currently some 50% of production is exported and, either directly or through licensed manufacturing agreements,WITT&SOHN are active in over 60 countries worldwide.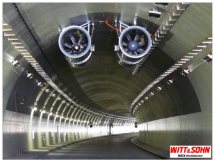 Now in the third generation of family control, WITT&SOHN's reputation has been built on the highest levels of product quality through continued research and development investment. Underlining the Company's commitment to technical excellence through innovation, WITT&SOHN chairman Professor Dr. Hans Witt and technical director Dr. Henrik Witt are actively involved in both national and international research projects. Both are official German industry representatives on various international standards committees.